Sverige handlar gärna med världens farligaste kärnvapenplanerare och terrorstöd utan hämningar,
länk
.
Iran visar en ny bas för ballistiska missiler som kan ta kärnvapen. Enda svenska nyheter om det hittar jag på
http://www.svt.se/nyheter/utrikes/iran-avslojar-ny-missilbas
Även på
http://qet.se/2016/01/05/iranska-regimen-slapper-nya-bilder-pa-sin-underjordiska-missilbas/
- ett ställe jag inte sett innan.
Hade samma nyhet varit om Saudiarabien hade alla tidningar skrivit.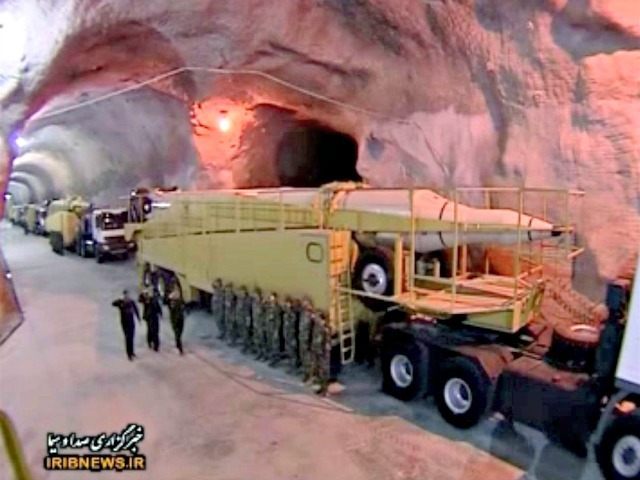 by
JORDAN SCHACHTEL
6 Jan 2016 Washington, DC
The Islamic Republic of Iran revealed Tuesday what appeared to be an underground missile base, with state-television footage showcasing a stockpile of precision-guided missiles.
The Emad missiles shown in the video appear to violate a 2010 UN Security Council resolution that banned Iran from developing nuclear-capable ballistic weapons,
Reuters
reports.
Iran's unveiling of the underground facility comes less than a week after the White House bailed out on an effort to impose sanctions on the Ayatollah's regime. Sanctions were reportedly going to be implemented following Iran's blatant violation of international resolutions, but the Obama administration backed down, reportedly at the
request
of Tehran.
An Iranian Revolutionary Guards Corps (IRGC) unit staffs the underground missile facility, which was built in a mountain range likely to protect the site against air strikes. Ali Larijiani, a high-ranking regime official who serves as its parliament speaker, visited the base on Tuesday, according to state-controlled
Tasnim News Agency
.
This new "missile city," described as a "seemingly impregnable mountain base," is the second such facility inside Iran, the state media outlet claims.
Buried at the site are what the regime claims to be its Emad missiles. The Emad is a ballistic missile with an alleged range of over 1,000 miles. The regime also claims the Emad has an advanced guidance system. UN sanctions monitors
suspect
the Emad is capable of delivering a nuclear weapon, which would make the powerful weapon blacklisted in violation of the UN Security Council resolution.
"Tehran has repeatedly stated that its military might is defensive in nature and poses no threat to other countries," the article in the state-publication concludes.
This latest revelation becomes at least the third incident that shows Iran has violated international sanctions and resolutions. The regime has already conducted two ballistic missile tests in recent months, following the signing of the Joint Comprehensive Plan of Action (JCPOA), otherwise known as the Iran nuclear deal.
Last week, Iran vowed to "speed up" its missile program.
"In view of America's recent hostile steps and the esteemed President (Hassan Rouhani)'s emphasis, we will increase the speed and scope of our missile capabilities," Defense Minister Hossein Dehqan told state-controlled
PressTV
on New Year's Day. "Iran's missile capabilities have never been the subject of negotiations with the Americans and will never be. Iran's defense power is a guarantee for security and stability in the region."
IRAN UNVEILS SECOND UNDERGROUND EMAD MISSILE SITE AS A WATCHING WORLD DOES NOTHING
Iran unveiled a new underground missile depot on Tuesday with state television showing Emad precision-guided missiles in store which the United States says can take a nuclear warhead and violate a 2010 U.N. Security Council resolution.
by
Geoffrey Grider
January 5, 2016
IRAN UNVEILS SECOND UNDERGROUND MISSILE, LIKELY TO IRK U.S.
EDITOR'S NOTE: IN THE 1930'S, NAZI DICTATOR ADOLF HITLER WENT ON A WEAPONS BUILDING RAMPAGE IN VIOLATION OF THE
TREATY OF VERSAILLES
, AND THE ENTIRE WORLD WATCH AND DID ABSOLUTELY NOTHING. IN 2016, AS THE WORLD WATCHES AND DOES NOTHING, THE NATION OF IRAN, IN VIOLATION OF EVERY TREATY AND SANCTION WE HAVE PLACED ON THEM, IS BUILDING AN ARSENAL OF INTERCONTINENTAL BALLISTIC MISSILES THAT WILL ABSOLUTELY CARRY A NUCLEAR PAYLOAD. ARE YOU READY FOR WHAT COMES NEXT?
DUBAI – Iran unveiled a new underground missile depot on Tuesday with state television showing Emad precision-guided missiles in store which the United States says can take a nuclear warhead and violate a 2010 U.N. Security Council resolution.
The defiant move to publicize Iran's missile program seemed certain to irk the United States as it plans to dismantle nearly all sanctions on Iran under a breakthrough nuclear agreement.
Tasnim news agency and state television video said the underground facility, situated in mountains and run by Iran's Revolutionary Guards, was inaugurated by the speaker of parliament, Ali Larijani. Release of one-minute video followed footage of another underground missile depot last October.
THE UNITED STATES SAYS THE EMAD, WHICH IRAN TESTED IN OCTOBER, WOULD BE CAPABLE OF CARRYING A NUCLEAR WARHEAD AND U.S. OFFICIALS SAY WASHINGTON WILL RESPOND TO THE EMAD TESTS WITH FRESH SANCTIONS AGAINST IRANIAN INDIVIDUALS AND BUSINESSES LINKED TO THE PROGRAM.
Iran's boasting about its missile capabilities are a challenge for U.S. President Barack Obama's administration as the United States and European Union plan to dismantle nearly all international sanctions against Tehran under the nuclear deal reached in July.
Iran has abided by the main terms of the nuclear deal, which require it to give up material that world powers feared could be used to make an atomic weapon and accept other restrictions on its nuclear program.
BUT PRESIDENT HASSAN ROUHANI ORDERED HIS DEFENSE MINISTER LAST WEEK TO EXPAND THE MISSILE PROGRAM.
The Iranian missiles under development boast much improved accuracy over the current generation, which experts say is likely to improve their effectiveness with conventional warheads.
The Revolutionary Guards' second-in-command, Brigadier General Hossein Salami, said last Friday that Iran's depots and underground facilities are so full that they do not know how to store their new missiles.
source
Obongon gör inte ett smack.